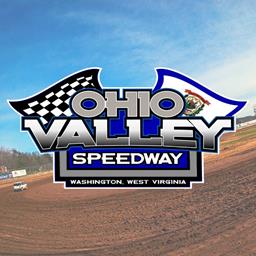 10/13/2023 - Ohio Valley Speedway
Parkersburg, WV
Finale at The Valley Night #1
Join us for Friday Night racing at the Valley during Night 1 of the Finale at The Valley!
In action will be the OVSCA Sprint Car series, Steel Block Late Models, Las Trancas Super Late Models, Polymer Services UMP Modifieds, Pike Street Lanes Sportmods, Bill's Auto Salvage FWD 4 Cylinders and Mike's Auto Body WRA Mini Wedges. Heats will be run Friday Night, with features on Saturday Night.
Gates will open at 4 p.m., with mini wedge action at 6 p.m., and hotlap/qualifying starting at 7 p.m.. Pricing information will be released prior to event.
Ohio Valley Speedway is located at 40 Wadesville Road, just south of Lubeck, WV on Rt. 68 South & Wadesville Road.
For more information, contact Dan Hansen at 740.350.6800.
Pits Open

4:00 PM

Gates Open

4:00 PM

Hot Laps At

7:00 PM

Racing Starts

6:00 PM
Polymer Services UMP Modifieds
Pike Street Lanes Sportmods
Bill's Auto Salvage FWD 4 Cylinders
Mike's Auto Body WRA Mini Wedges
410 Sprints - Winged
Steel Block Late Model
Las Trancas Super Late Models