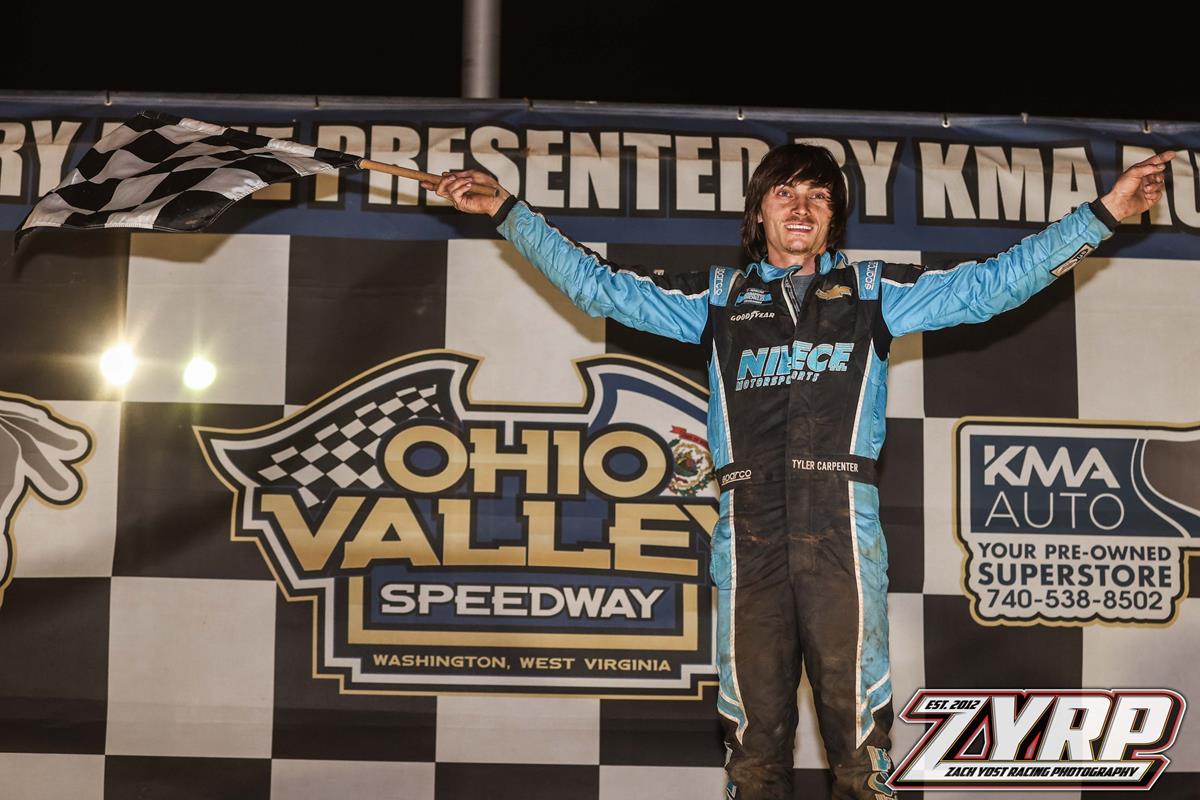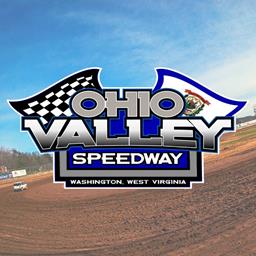 10/24/2022
Ohio Valley Speedway
---
Great Weather and Jam Packed Pit Area Highlight Finale at the Valley
The Ohio Valley Speedway would bring the curtain down on another successful season this past Saturday Night as the Valley would present a special night featuring the Finale at the Valley/ Season Championship/ Suicide Awareness Night. Mother Nature would bless us with an absolutely gorgeous Saturday for racing featuring a packed pit area and a very healthy and appreciative crowd would be treated to some awesome racing action and an excellent racetrack courtesy of Mac McDonald.
Parkersburg, WV's Tyler Carpenter would hold off a charging Kyle Thomas to pick up the Las Trancas Super Late Model main event and his 7th feature win of the season at the Valley. With his 6th place feature finish Ed Shuman would pick up the 2022 Ohio Valley Speedway Super Late Model track championship. In the OVSCA Sprint Car Series it was Jamie Myers garnering the win over the crowned 2022 OVSCA champion Kory Crabtree and Brandon Conkle. Corey Delancey of Parkersburg, WV would hold off Zach Milbee to claim the Steel Block Late Model feature event. Milbee would be crowned the 2022 Steel Block Late Model Series Champion. KC Burdette would claim his 9th feature win in a row in the Polymer Services UMP Modified main event presented by Webb Motorsports over the Tyler County Speedway track champion Chad Smith and newly crowned Ohio Valley Speedway track champion Kyle Bond.
It was Steven Dotson coming out on top in the Pike Street Lanes Sportmod feature ahead of Pat Garrett and Nick Corbitt. A great race among the top three with Dotson, the Tyler County Speedway track champion picking up his first win of the season at the Valley. By virtue of his solid fourth place showing Kendall Hodge would be crowned the 2022 Ohio Valley Speedway Sportmod track champion. Dennis Adkins would pick his first win of the year in the Bill's Auto Salvage SCDRA 4 Cylinder division over Hunter Stephens and Patrick Willbarger. Josh Ayers would take a nasty tumble on the feature start but would still lay claim to the 2022 Ohio Valley Speedway SCDRA 4 Cylinder track championship.
Ohio Valley Speedway would present a very memorable evening for many as we paid tribute to Aaron Smith as part of our Suicide Awareness Night. Lots of awareness, funds and tears were shed as special race car wraps and a special intermission were all part of the evenings activities. Special thanks to the many who contributed to make this a special night for so many. The racing family continues to go above and beyond and as a racetrack we are truly grateful and humbled to be a small part of giving back to the local community.
Stay tuned to our Facebook page and website at www.raceovs.com for updates regarding the upcoming racing banquet, 2023 schedule announcements and much more. Thanks to all the racers, pit crews, sponsors, race fans and track staff that supported the Ohio Valley Speedway in some way in 2022 as it was much appreciated and we can't wait to see everyone again in 2023!
Ohio Valley Speedway Feature Results, Saturday, October 22nd
Las Trancas Super Late Model Feature: Tyler Carpenter, Kyle Thomas, Colten Burdette, Freddie Carpenter, Lucas Crooks, Ed Shuman, Josh Tonkin, Jeremy Blake, Kenny Rucker, Joey Lattea, Ronnie Mayle, Bill Whited, George Klintworth, Troy Frazier, Harold Redman Jr., DNS Chris Carpenter
OVSCA Sprint Feature: Jamie Myers, Kory Crabtree, Brandon Conkle, Greg Mitchell, Dave Dickson, Andre Layfield, Eric Martin, Chris Smalley, Garrett Mitchell, Anthony Gaskins, Chris Garnes, Lee Haskins, Wayne McPeek, Chris Myers
Steel Block Late Model Feature: Corey Delancey, Zach Milbee, William Rose, Matt Melvin, Lucas McDonald, Eric Monk, Jacob Rucker, Marshall Wiblin, Austin Eddy, Mike Sprouse, Steve Bigley, DNS Dustin Sprouse, Shawn Lovejoy
Polymer Services UMP Modified Feature presented by Webb Motorsports: KC Burdette, Chad Smith, Kyle Bond, Larry Bond, Kenny Johnson, Tyler Misner, Justin Hart, Robin Ours, Brandon Patton, Roger Arix, Jayden Ritchea, Brad Goff, Bobby Bagley, Roland Fulmer, Jayson Spaur, Bobby Finley, Chris Carpenter, Booger Garnes, Phil Jeffries
Pike Street Lanes Sportmod Feature: Steven Dotson, Pat Garrett, Nick Corbitt, Kendall Hodge, Nick Parsons, Levi Wright, Brandon Lewis, Jeff Burdette, Curt Reck, Montana Legg, Allen Clark, Nick Oxley, Nic Green, Al Smith, Mike Mason, Michael Robinson, Russell Murphy, Ryan Yates, Brandon Davis, Cody Hall, Mike Smith, Aaron Patton, Scott Robinson, Biff Brookover
Bill's Auto Salvage SCDRA 4 Cylinder Feature: Dennis Adkins, Hunter Stephens, Patrick Willbarger, Joey Price, Matt Schofield, Timothy Harlan, Sam Dickel, Justin Carpenter, Joe Price, Adam Miller, Mitch Eddy, John Rankin, David Cox, Jeremey Simmons, Paul Midcap, Chris Lauer, Denzil Barker, Josh Ayers, DNS Ted Dille
Article Media
Back to News