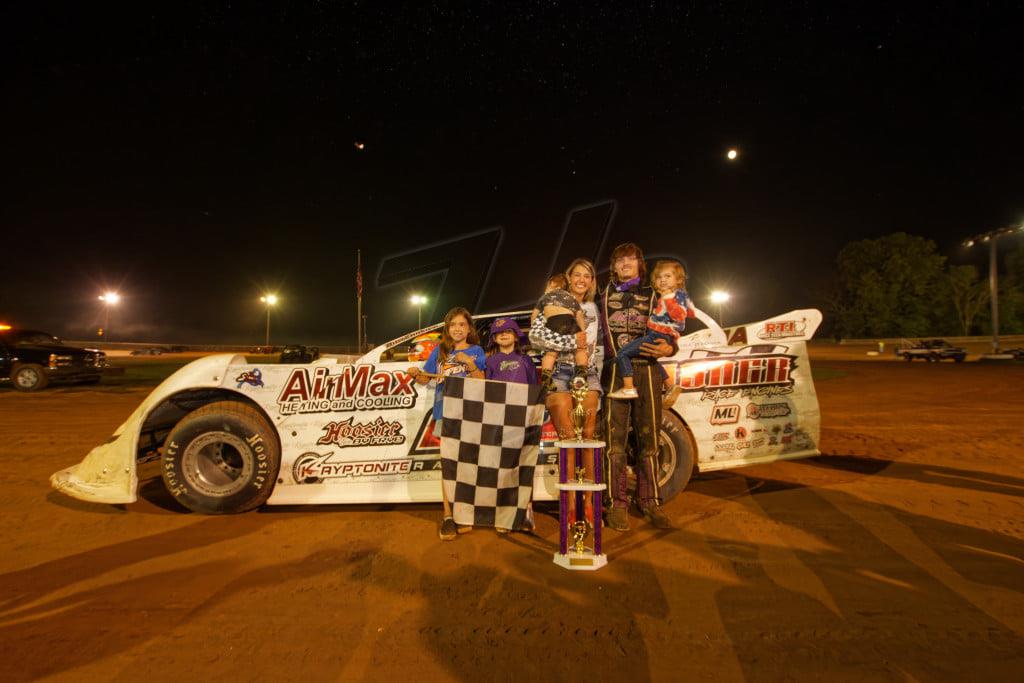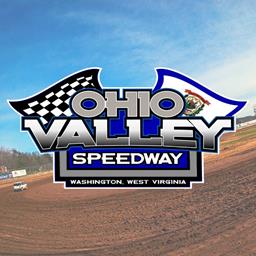 8/22/2021
Ohio Valley Speedway
---
Tyler Carpenter Wins 3rd Annual Keith Barker Memorial presented by Las Trancas Mexican Restaurant at Ohio Valley Speedway
It was another edition of Friday Night Lights at the Ohio Valley Speedway this past week but this one was a little more special as a great friend to many was paid tribute to with the running of the 3rd Annual Keith Barker Memorial presented by Las Trancas Mexican Restaurant. An excellent night of action and a great field of cars would see Tyler Carpenter, Coleman Evans, Cole Perine, Mike Tennant, Blake Tasker and Mack Brookover all notch wins, champions trophies and the traditional Keith Barker 'Hat'.
In the evenings main attraction it was Parkersburg, WV's Tyler Carpenter utilizing an early race restart and superb slide job on early leader Ryan Montgomery to grab the lead and race off to the checkered. Picking up his second consecutive Barker Memorial the 'Kamikaze Kid' would be followed across the line by Ryan Montgomery, Jacob Hawkins, Colten Burdette and Ronnie Mayle. Jacob Hawkins would set fast time with Ryan Montgomery grabbing the 'Dash' with Zach Hill and Ed Shuman picking up heat race wins.
A terrific UMP Modified feature would see great racing throughout the field but at the checkered it was once again Mineral Wells, WV's Coleman Evans putting the Evans Construction #17c in victory lane. It would be Evans 7th win in the competitive division and following Evans across the stripe was a game Jason Brookover, Chad Roush, Kenny Johnson and Travis Dickson.
An exciting Pike Street Lanes Sportmod feature it would be Cole Perine picking up the win subbing for Nathan Drake in the #89 machine. Perine would hold off top runner Lucas Weppler to notch his first win of the season. Following Perine and Weppler across the line was Nick Parsons, current point leader Toby Wilson and Mike Smith.
It's always great to see a new winner and that's exactly what the Bill's Auto Salvage 4 Cylinder division produced Friday Night. It was Parkersburg, WV's Mike Tennant grabbing his first ever feature win aboard the T22 machine. The popular victory would see Tennant lead Josh Ayers, Jeff Rankin, Brandon Adkins and Kasey Rankin to the pay window.
Kicking off the evening would be the Mike's Auto Body WRA Mini Wedges and grabbing the win in the Young Gun class was Blake Tasker. Following Tasker was 2021 point leader Logan Perine, Joey Miller, Walker Slayton and Farrah Bailey. In the Mike's Auto Body WRA Veteran class it was all Mack Brookover picking up his 5th win of the season over James Bailey, Isaac McLeish, Colin Knox and Preston Heckert.
Be sure to join us this Friday Night, August 27th as the Ohio Valley Speedway will play host to another fantastic night of action as it's 'Hillbilly Qualifier' Night at the Valley. Guaranteed starting spots in all classes are up for grabs as the area's best racers will duke it out Friday Night for a provisional spot in the 53rd Annual Hillbilly 100 weekend coming up Labor Day weekend. Plus the Hotmods will join the card for the week along with racing in all other classes. Gates open at 4pm, Mini Wedges at 6pm, Qualifying at 7pm with General Admission $15, kids 10 and under FREE and Pit Passes priced at $30.
Friday Night, August 20th Ohio Valley Speedway Feature Results
3rd Annual Keith Barker Memorial Las Trancas Super Late Model Feature: Tyler Carpenter, Ryan Montgomery, Jacob Hawkins, Colten Burdette, Ronnie Mayle, Josh Tonkin, Zach Hill, Freddy Carpenter, Greg Flinn, Tyler Stutler, Ryan Cline, Austin Eddy, Ed Shuman, Cody Rogers, Robbie Bostic, Chris Parks, George Klintworth, Dustin Sprouse, Andy Bond, DNS Nick Corbitt
UMP Modified Feature: Coleman Evans, Jason Brookover, Chad Roush, Kenny Johnson, Travis Dickson, Zack Newell, Joe Hamon, Mike Foggin, Brandon Patton, Jim Ruckman, Larry Bond, Zack Barr, KC Burdette, Robert Garnes, Terry Parsons, DNS Andy Bond
Pike Street Lanes Sportmod Feature: Cole Perine, Lance Weppler, Nick Parsons, Toby Wilson, Mike Smith, Josh Spaur, Ryan Yates, Mitch Ward, Robin Ours, Pat Garrett, Miles Cook, Scott Robinson, Montana Legg, Cruz Vandall, Mike Sprouse, Ronnie Pickens, Wesley Reed, Brayden Mattson, DNQ: Keith Marlow, Roger Arix, Corey Galbreath, DNS: Dawson Newell, Curt Reck, Tommy Powell
Bill's Auto Salvage 4 Cylinder Feature: Mike Tennant, Josh Ayers, Jeff Rankin, Brandon Adkins, Kasey Rankin, Sam Dickel, Jarrod Heiss, Paul Midcap, Matt Schofield, Kevin Graap, Jacob McDaniel, Adam Miller, Bret Ball, DNS: Ted Dille, Jacob Hughes, Jamie Harper
Mike's Auto Body WRA Young Gun Mini Wedge Feature: Blake Tasker, Logan Perine, Joey Miller, Walker Slayton, Farrah Bailey, Arianna Henthorn, Carson Burdette, Lane Pomas, Coleman Jarvis, Bryson Long, Easton Mayle, Ryder Parsons, Austin Taylor, Brandon Davidson (Trophies sponsored by KJ Motorsports)
Mike's Auto Body WRA Veteran Mini Wedge Feature: Mack Brookover, James Bailey, Isaac McLeish, Colin Knox, Preston Heckert, Addison Tasker, Stephen Sutler, Tanner Ritchea, Tyler Ritchea, Avie Sprouse, Brody Patten, Drey Perkins (Trophies sponsored by Mike's Auto Body)
---
Submitted By: Dan Patterson
Article Media
Back to News