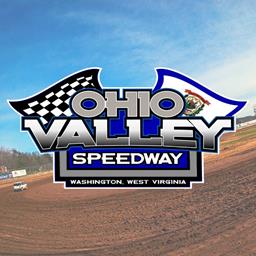 12/16/2022
Ohio Valley Speedway
---
Ohio Valley Speedway to Celebrate 2022 Champions in February
Ohio Valley Speedway will be honoring their 2022 track champions as well as celebrating the season that was on Saturday Night, February 18th. This year's ceremony and accolades will be doled out at the historic Blennerhassett Hotel, located at 320 Market St., Parkersburg, WV.
Highlighting the evening will be the crowning of the 2022 Ohio Valley Speedway Track Champions including Ed Shuman of Mineral Wells, WV in the Las Trancas Super Late Model division; Kyle Bond of Coolville, Ohio in the Polymer Services UMP Modified division; Kendall Hodge of Davisville, WV in the Pike Street Lanes Sportmod division; Josh Ayers of Parkersburg, WV in the Bill's Auto Salvage SCDRA 4 Cylinder division; along with Bryson Long and Colin Knox picking up Mike's Auto Body WRA crowns. In addition to the champions, the top five positions in each class will also be honored. All are welcome to attend the banquet--drivers, fans, crew members, officials and sponsors-- as we pay tribute to those who achieved excellence in 2022 along with previewing the upcoming 2023 season.
The Blennerhassett Hotel will be hosting this years 'Celebration of Champions' and will include a fine dining experience featuring a baked steak dinner. Coffee, tea, and water is also included while other drinks will be available for purchase at the bar. Cost to attend the 2022 Championship Awards Banquet is $35 per person. Please RSVP by calling or texting 304-771-5661 to provide the number in your party and to reserve your table. Tickets may also be purchased online on our website at www.raceovs.com. Hotel rooms are also available for any guest wishing to stay overnight following the awards ceremony. A discount on hotel accommodation pricing is available to those attending the Banquet. Doors will open at 5:00 pm for social hour, dinner will be served at 6:00 pm with awards handed out at 7:30 pm with DJ and Dancing to follow.
Las Trancas Super Late Model Top Five; Ed Shuman 490, Harold Redman Jr. 476, Josh Tonkin 468, Tyler Carpenter 384, George Klintworth 343
Polymer Services UMP Modified Top Five; Kyle Bond 564, Kenny Johnson 541, KC Burdette 540, Chad Roush 418, Jim Ruckman 330
Pike Street Lanes Sportmod Top Five; Kendall Hodge 482, Montana Legg 440, Curt Reck 368, Scott Robinson 364, Pat Garrett 362
Bill's Auto Salvage SCDRA 4 Cylinder Top Five; Josh Ayers 500, Patrick Willbarger 488, Mike Tennant 422, Matt Schofield 400, Ted Dille 393
Mike's Auto Body WRA Veteran Mini Wedge Top Five; Colin Knox 544, Avie Sprouse 498, Joey Miller 454, Kaden Sexton 412, Tanner Ritchea 378
Mike's Auto Body WRA Young Gun Mini Wedge Top Five; Bryson Long 568, Easton Mayle 510, Ryder Parsons 474, Karson Burdette 384, Bentley Glover 336
Ohio Valley Speedway is busy working on the 2023 schedule and will be released in the upcoming weeks. For more information on Ohio Valley Speedway, visit us online at www.raceovs.com and follow the speedway on social media for all the latest updates.
---
Submitted By: Dan Patterson
Back to News